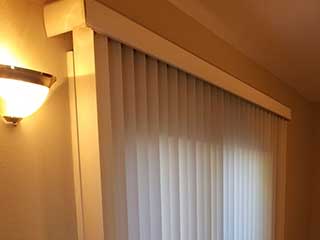 The regular build of window blinds, with horizontal vanes, is quite prevalent. You can find them in all sorts of properties, on all sorts of windows. But the bigger the surface area gets, the better vertical blinds can suit it. With sliding glass doors and window walls, vertical treatments do a far better job blocking sunlight. What's more, there's a very large range of designs and materials you can get them made in. That makes vertical blinds easy to customize for the interior décor of different rooms. Whether for living rooms or office spaces, you can find our custom shading solutions always guarantee customer satisfaction. Richmond Blinds & Shades loves helping folks from all nearby cities create custom blinds for their doors or windows. We emphasize quality materials and low prices to create a range of products for all budget ranges.
Sliding Glass Door Blinds
Many Richmond residences boast backyard patios with beautiful hardscape designs. That glass door that leads to the patio often offers a direct view into the outside, leading from the living room or kitchen to the patio. It essentially functions as a giant window, letting in a lot of sunlight. That can be a blessing, but also a curse. Covering sliding glass patio doors with vertical blinds makes it easy to control exactly how much light streams inside. With electric vertical blinds for the door, you can have the set slide laterally, exploiting the vertical structure to do a better job of blocking glaring sunlight.
Motorized Vertical Blinds For Richmond Doors or Windows
Many folks around the bay area and California, in general, opt for electric window treatments nowadays. The reasons aren't hard to figure out. Motorized blinds, vertical or other types, give you remote control via wireless connections. That means using your office or home Wi-Fi network to make the blinds open or close according to your current needs. You can also get the motorized vertical blinds installed with brightness sensors, opting for automatic self-adjustment that saves you any hassle. You can choose wired power sources, or battery-powered blinds that work independently of your main electrical network. That means if the power goes out, your motorized vertical blinds will continue to operate regardless.
Blackout Vertical Window Treatments
Another popular feature for vertical covers and window treatments in general, blackout blinds make it easy to achieve privacy and uninterrupted sleep in many Richmond bedrooms. Since vertical blinds often cover larger surface areas, choosing to have them made in the 'blackout' fashion can help you darken large rooms with relative ease. Blackout vertical blinds can suit office spaces with large window walls. The blackout option renders privacy, which is a crucial thing as far as meeting rooms are concerned.
Richmond Vertical Blinds Custom Made
Whether you're interested in vertical covers for windows or other types of shading solutions, Richmond Blinds & Shades will gladly help. You can choose not only different designs but various materials too. From PVC to aluminum to faux wood vertical blinds with grainy textures perfect for classic and elegant interior décor choices. Our professionals can come to your Richmond office or residence for free estimates on vertical blinds, motorized or manual. Get in touch with us today to set up an appointment.