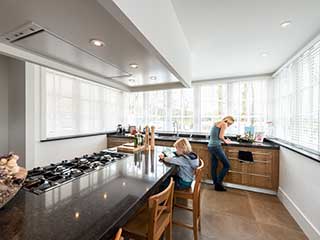 Where do you start when you want to get new window blinds for your home or business? Why not with our experts at Richmond Blinds & Shades! We're happy to put our extensive knowledge to use and make choosing your new set of treatments easy. One of the many types you can pick from is Venetian blinds, which are excellent matches for mid-sized to small windows. There are several styles to choose from as well to suit your needs, and you can learn about a few of them below. For more info on Venetian blinds or other window treatments, our free consultations are always available.
High-Quality Metal and Wood Venetian Blinds
Much of the decision regarding what type of Venetian blinds to get will come down to your personal preferences and needs! Our Richmond professionals will go over the pros and cons of each with you, and narrow down the selection to what would best address your requirements. While metal Venetian treatments may not look the most stylish, they're ideal for anyone wanting to keep things simple and affordable. Aluminum also achieves this, and are durable as well, making them great for businesses. Would you rather impress with something aesthetically pleasing? Wood Venetian blinds would do the trick! It's all up to you, and what you're searching for.
Richmond's Most Effective Blackout Venetian Blinds
Blackout Venetian window coverings can do a lot for your home, from assuring privacy, to turning your living room into a home theater! They come in various material choices, so you aren't stuck with one option, either. Blackout Venetian blinds do just as their name suggests, and keeps light from outside from coming in, not even a glow. No one will be able to see through them when closed, so they add an extra layer of security. Whether you want to sleep easier or keep out prying eyes, these are your best bet.
Motorized Venetian Blinds Help to Simplify
Tired of skylights or other out of reach windows in your home letting in too much direct sunlight? Motorized Venetian window coverings can help! Even the highest windows can have Venetian blinds installed thanks to being able to operate them with a remote control, smart device, or wall sensors. No more sun-bleached furniture, or too high electric bill due to the fluctuating temperature! Just tap a button, or use the timer functions to have them open and close accordingly. The constant moving of your motorized Venetian window treatments also gives the idea that someone is always home. This can help keep away unwanted visitors as well!
The Finest Venetian Blinds for Your Richmond Windows
Now that you know more about the versatility of Venetian window treatments, why not check them out for yourself? We offer free consultations and will be glad to go over all the options with you to find that beautiful match for your home or business. Whether you like the sound of Venetian blinds or would like to learn about other styles, we can assist you in no time! All you need to do is contact us today to get started on finding the right window coverings for you. Schedule your free estimate appointment and we'll send our professionals over to provide the free consultation.