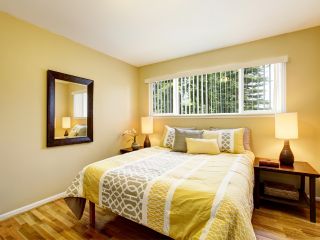 Vertical window blinds are a classic and versatile window treatment option that can add style, privacy, and light control to any room. But if you're considering adding them to your home or office, you may be wondering what they're made of, whether they're suitable for your windows, and what to be aware of when ordering them. This comprehensive guide has you covered.
What Are Vertical Window Blinds Made Of?
Vertical window blinds are typically made of fabric, vinyl, or aluminum slats that hang vertically from a headrail. The slats can be tilted to control the amount of light that enters a room or fully drawn to provide privacy.
Fabric vertical blinds are soft and stylish, with a variety of colors and patterns available to suit any décor. Vinyl vertical blinds are durable and easy to clean, making them a popular choice for high-traffic areas. Aluminum vertical blinds are sleek and modern, perfect for contemporary homes or offices.
Are Vertical Window Blinds Suitable for Tall or Small Windows?
Vertical window blinds are suitable for both tall and small windows. They are especially popular for sliding glass doors and large windows, where their vertical orientation complements the natural shape of the window.
For smaller windows, a narrower slat width may be more appropriate. Richmond Blinds & Shades offers a wide variety of slat sizes and colors to ensure the perfect fit for any window.
Are Vertical Window Blinds Suitable for Offices or Homes?
Vertical window blinds are a versatile window treatment option suitable for both offices and homes. In offices, they provide privacy and light control while still allowing natural light to filter in. In homes, they can be used in any room and offer a classic, stylish look.
What to Be Aware of When Ordering Vertical Window Blinds
When ordering vertical window blinds, it's important to be aware of the following:
Slat width: Slat width can vary, and a wider slat may be more appropriate for larger windows or sliding doors.
Mounting options: Vertical blinds can be mounted inside or outside the window frame, depending on your preference and the size of the window.
Headrail options: The headrail is the top part of the blind where the slats are attached. Different headrail options are available to suit different window sizes and styles.
Professional Installation Services Available in Richmond Blinds & Shades
If you're ready to add the versatility of vertical window blinds to your home or office, the experts at Richmond Blinds & Shades can help. With professional installation services available, you can be sure that your blinds will be installed correctly and look their best. Contact us today to schedule your consultation and learn more about our vertical window blinds and other window treatment options.