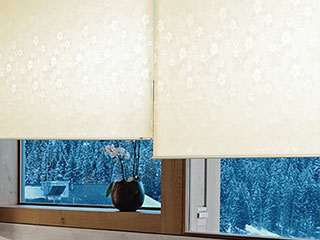 You can protect wallpaper, furniture, and your eyes from harsh sunlight with the right set of blinds or window shades. But for an enhanced sense of privacy and far better sleeping conditions, blackout blinds take the cake. You can block out streetlights and early dawn's glow with room darkening window treatments that let you sleep comfortably all night long. Plus, for office spaces or other areas where you want privacy, blackout window blinds will provide privacy to the optimal degree. It's important to ensure your coverings deliver on every aspect you need them to. As the no.1 source for window coverings near Richmond, we offer blackout blinds that do the job perfectly from day one.
Best Blinds to Motorize
For optimal reasons, as well as convenience, you should consider getting blackout blinds motorized. This addition of efficiency makes blackout window treatments even more effective and useful. Nobody wants to lie in bed only to then suddenly realize they didn't draw the blinds. If you don't get up to do that you'll find yourself waking up super early. Or worse, the streetlights outside your window will be keeping you up all night. Well, with motorized blackout blinds you don't have to worry. No reason to get out of bed. Just push the remote control button and the blackout window coverings will close on their own.
Should I Get Blinds or Blackout Curtains?
Well, the answer depends on what you're trying to get out of these window coverings. Blackout curtains give elegance to the room's aesthetics, given the nature of draperies. The thick and opaque fabric blocks sunlight very well. Of course, wind can move the curtains, and you can only block parts of the window if you want some sunlight in during the day. Now choose blackout blinds, and you've got an easy way to adjust sunlight levels from none to full with the vanes. For bedrooms and other spaces, blackout window blinds often provide an excellent choice. Though, for purely decorative purposes, some might prefer to go with blackout curtains. It really comes down to personal needs and taste.
Blackout Window Blinds For Richmond Bedrooms
Why do blackout window treatments make such a difference in bedrooms? Because they let you decide precisely how much sunlight you allow inside. Sleep influences more than your mood. It dictates your health and can lower your hormone levels if you're not careful. It's extremely important to ensure you get a good night's sleep regularly. And blackout blinds help you do that. They use overlapping vanes to block sunlight when fully closed, thus letting no light from the sun or streetlamps outside bother you. This room darkening quality of blackout window blinds makes them a huge benefit to bedrooms all over Richmond and really California in general.
Can I Get Blackout Blinds Installed Quickly?
100%. Our custom made window treatments, blackout or sheer, come with very fast turnarounds. Talk to our local room darkening window covering installers in Richmond to get a free estimate on blackout window blinds for any property in the nearby area. Choose blinds motorization features, different designs you look, and more. Then, we'll produce the new blackout blinds and return to install them for you. Get in touch with us today to arrange for your free consultation appointment.