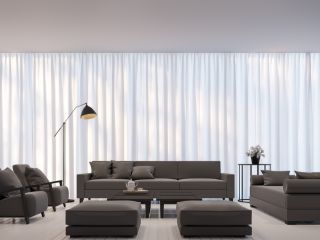 At Richmond Blinds & Shades, we're your trusted source for a stunning range of draperies and curtains, offering impeccable design, professional installation, and expert guidance. Located in Richmond, we proudly serve both residential and commercial clients, indoors and outdoors, elevating their spaces with exquisite window treatments. Let us introduce you to the world of draperies and curtains, showcasing the key advantages they offer compared to other window treatments.
Why Draperies & Curtains?
Unveiling the Difference
Draperies and curtains are more than just window dressings; they're versatile pieces of art that transform your interiors. These elegant, fabric-based window treatments offer several benefits that set them apart:
Unparalleled Aesthetic Appeal: Draperies and curtains enhance the beauty of your space, adding a touch of sophistication that no other window treatment can match.
Light Control: Custom drapes and curtains give you control over the amount of natural light entering your space, allowing you to create the perfect ambiance.
Privacy: Curtains provide a sense of privacy, making your space cozier and more secure.
Insulation: With options like blackout curtains, they offer excellent insulation, keeping your space comfortable throughout the year.
Sound Dampening: Curtains can reduce noise pollution, ensuring a quieter and more peaceful environment.
Motorization for Modern Living
Richmond Blinds & Shades is proud to partner with industry-leading brands, such as Somfy and Lutron, for motorization solutions. We bring convenience and luxury to your space with automated window treatments that can be controlled with a touch of a button. Say goodbye to manual adjustments and hello to effortless, smart living.
Our Services
Free Consultation: Our experts offer complimentary consultations to understand your needs, assess your space, and provide tailored advice.
Professional Installation: Leave the installation to us, ensuring a flawless finish for your draperies and curtains.
Expert Guidance: We'll help you choose the right window treatments, whether you're looking for curtains, drapes, or other alternatives that suit your space and style.
Measurements & Accessories
Not sure how to measure for curtains or where to hang curtain rods? We have you covered! Our team will assist you in getting accurate measurements and guide you on selecting the right accessories for your window treatments.
Visit Our Curtain Store in Richmond
For those looking for a "curtain store near me," our Richmond location is your go-to destination. We offer an extensive range of curtains and drapes, ensuring you find the perfect fit for your space.
Elevate Your Space with Richmond Blinds & Shades
With a wide range of draperies and curtains, motorization options, and expert guidance, Richmond Blinds & Shades is your partner in transforming your space into a haven of elegance and functionality. Explore the world of custom window treatments with us and experience the difference.