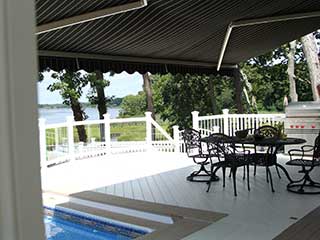 As temperatures rise and sunlight gets harsher, controlling outdoor shade becomes an absolute must. With motorized patio covers, you gain the ability to adjust the protection with the push of a button. Motorized awnings, as well as pergola screens and various deck canopy options, provide the perfect enhancements for making your Richmond patio or porch habitable and enjoyable even in peak summer.
Pergola Screens & Canopies Motorized
The advancement of modern technology has made motorized coverings the ultimate in shading solutions. Pergola screens provide sunlight diffusing protection that can also improve the general privacy of the shade structure. With motorized pergola canopies, you also control direct sunlight threatening you from above. Motorized pergola screens and canopies are a must-have addition to any Richmond patio area that owners want to keep pleasant and comfortable year-round.
Awnings For Richmond Patios
A great way to improve upon existing outdoor shade structures like patios, gazebos, and decks is with motorized awnings. These coverings can add shade to different areas, extending the comfort zone and making sure you don't have to huddle under a single limited canopy. Motorized awnings custom made can suit different sized patios and decks, simply consult with our experts to choose the right features.
Custom Motorized Patio Covers – Free Quotes
To start thinking about different options and picking the features or design ideas that will best suit your patio, consult with our professionals for free. We provide free estimates on motorized patio covers, shades, awnings, and more to all nearby Richmond area customers and adjacent regions too. For more information, contact us to schedule a no-cost estimate at your property.