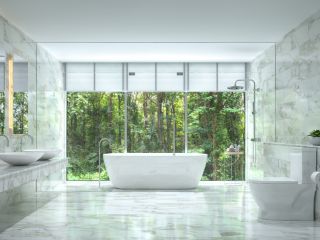 Electric blinds offer a range of benefits, from convenience to energy efficiency, making them an increasingly popular choice for homes and offices alike. But what types of blinds can be electrified, and what should you consider when ordering them? Read on to learn everything you need to know about electric blinds, including the most trusted manufacturers and professional installation services available from Richmond Blinds & Shades.
Types of Blinds That Can Be Electrified
Almost any type of blind can be electrified, including roller blinds, cellular shades, and even Roman shades. However, the most common types of blinds that are electrified are roller blinds and cellular shades. These types of blinds are easy to operate and offer a range of light control options, from blackout to sheer.
What to Consider When Ordering Electric Blinds
When ordering electric blinds, there are a few things to consider:
Power source: Electric blinds can be powered by batteries or hardwired into your home's electrical system. Battery-powered blinds are more flexible, as they can be installed anywhere without the need for electrical wiring.
Control options: Electric blinds can be operated using a variety of control options, including wall switches, remote controls, or even your smartphone or voice control assistants.
Trusted manufacturers: Lutron and Somfy are two of the most trusted manufacturers of electric blinds, offering a range of styles and options to suit any decor.
Are Electric Blinds Suitable for Tall or Small Windows? For Offices or Homes?
Electric blinds are suitable for both tall and small windows and can be used in both offices and homes. They offer a sleek, modern look that complements any decor, and their ease of use makes them a popular choice for those with mobility issues or anyone who wants to add convenience to their daily routine.
Professional Installation Services Available from Richmond Blinds & Shades
If you're ready to add the convenience and energy efficiency of electric blinds to your home or office, the experts at Richmond Blinds & Shades can help. We offer professional installation services for electric blinds, ensuring that your blinds are installed correctly and operate smoothly. Contact us today to schedule your consultation and learn more about our electric blinds and other window treatment options.