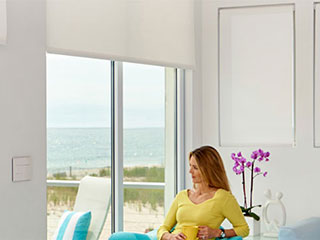 Combining the beauty of classic blinds with the innovation of motorization has allowed for some beautiful automatic window covering solutions. Motorized blinds provide a remote control-operated system to cover or expose windows, glass doors, skylights, and various other clear surface areas. From motorized curtains to Roman shades and blackout blinds, you can get a wide variety of motorized window treatments for Richmond area homes, businesses, and other properties. With help from our local installers and interior design consultants, you'll find motorized blinds that provide décor and functionality in a single package.
How To Control Motorized Blinds
You have several options to pick from when it comes to motorized window blinds remote control features. The most obvious two are the wall switch and the remote handset. With the wall switch, you simply flick it up or down to direct the movement of the motorized blinds. With the remote, you have a more portable option that communicates with the motorized window blinds when you push the button. But there are more choices available. Get motorized blinds with Wi-Fi connectivity and you can use smartphones and tablets as the main remote. You also have the option of connecting your motorized blinds to your Smart Home system. Thus, you can turn to voice commands for a true, the future is now, feeling.
Motorized Curtains and Window Shades
For those looking for the lavish and elegant look provided by blackout curtains and Roman shades, among other fabric window coverings, motorization remains a very popular choice. Motorized curtains, blackout for better privacy and sleep, can make for an excellent choice for Richmond bedrooms. Draw the motorized curtains from the comfort of your bed without having to get up. The same goes for motorized roller shades and Roman-style coverings, that can add an aesthetic to the room that's very elegant. Motorized window shades let you improve the existing décor with high-tech features that give you easy and fast control over sunlight. Sheer shades, motorized for convenience, can let you diffuse sunlight and change the ambiance with the push of a button.
Motorized Vertical Blinds – Perfect For Office Window Walls
A great choice for commercial office spaces, vertical blinds with motors provide a very efficient way of covering big window walls. With regular blinds, you'll have to deal with eventual bending at the center due to the horizontal vanes. However, going with vertical blinds, motorized for convenience, again, you don't deal with that. These vertical window treatments make for excellent choices for large surfaces. Motorized vertical blinds save time but utilizing remote control features to essentially tell the system what level of sunlight you want. Blackout blinds with remote controls also became very popular for this reason. The additional privacy is great for meeting rooms and alike.
Motorized Window Blinds For The Richmond Area
From soft and beautiful draperies and motorized Roman shades to sturdy window shutters and Venetian blinds. The choices are near endless, so it's important to find something that really provides the most efficient and affordable solution for your business or home. Get a lot of advice as well as a free estimate from our motorized blinds installers in Richmond to learn more. You can book a free consultation by calling or by using our online scheduling system.