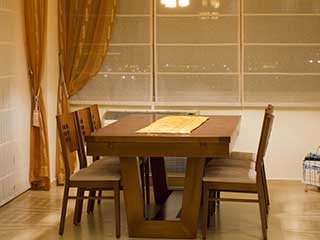 Want to give your indoor property a little something extra? With Roman shades, you can seriously enhance the décor while also utilizing these coverings to control how much sunlight streams through your windows. Richmond residents can now have the most elegant style of window coverings custom made and installed, at record low prices. Call Richmond Blinds & Shades and ask about our made-to-measure Roman shades for homes and offices!
Roman Shades 101
If you came to this page to find out what the heck we're talking about, here's a simple introduction. What are Roman shades? In short, they're fabric (or other very flexible materials) window shades that fold into a stack of pleats when you open them. These coverings have a very ornate and sensual appearance and are favorites for interior decorating. Since they take up some space at the top of the pane even raised, you'll usually see Roman shades on French doors and tall windows. By that same token, since they stay inside the window frame they help in situations where there isn't much room on the wall above it.
Roman Shades For Your Richmond Windows
These window treatments are decorative, but they don't always have to be bombastic or attention-getting. Some laid back white, black, or grey Roman shades for kitchen windows can blend into the decoration scheme while elevating it. Bathroom Roman shades are another surprising, but effective, combination. If you have a bathroom with tall windows or a glass door, some monochrome shades made from waterproof material can complement it. Of course, deeper hues or patterns for offices, living rooms, and bedrooms remain popular as always.
Try Some Unusual Roman Coverings Styles
The basic pleated fabric sheet build of Roman shades is elegant enough, but we can do far more. Richmond Blinds & Shades's interior design experts will give you free advice on how to get the most out of your order, and there are plenty of options. Relaxed Roman shades, for instance, have a curved lower-trim that makes them hang down like leaves in the center. To get a more convenient and child-safe cordless version, you can get motorized Roman shades. Remote-controlled openers make managing your windows and glass doors that much easier, and getting rid of the dangling cords is a must for parents. Richmond home and business owners can order their motorized shades with sensors, timers, and all sorts of other utilities. We handle the installation!
Use That Aesthetic!
Once you've picked your style and structure, our consultants will also advise you on how to pretty those shades up! The sky is the limit with embellishments like a lacy trim, embroidery, or patterned fabrics. Think about how your shades might look with some slits cut into the bottom, or with tales or tassels attached. Roman shades with curtains or valences on top as extras have a unique majesty, as well as giving you more lighting options for the room. Some silver or light grey Roman shades stand well on their own. If you want darker sets for a bedroom, consider having them made from blackout material, and giving them some lace or ribbons.
Electric Roman Shades With Remote Controls
Add beauty and utility in a single cover. With motorized Roman shades, you can add all the previously mentioned style and décor, while also optimizing your use of sunlight. Control your window coverings, Roman-style or otherwise, will help you brighten any room without electricity, and control the level of privacy indoors. Sheer Roman shades, motorized to work automatically, will soften sunlight during harsh hours for you. Need more privacy or want to darken the room? Motorized blackout Roman shades will let you sleep soundly no matter what time it is, or watch movies in style and comfort. Own a Richmond business? Get motorized Roman shades to improve the office décor and also minimize or completely eliminate sunlight glare on computer screens.
Affordable Roman Window Coverings
Richmond Blinds & Shades takes orders from all over the nearby sections of the San Francisco bay area. Want to add custom made Roman shades to your windows, glass doors or skylights? We're happy to help you every step of the way. Start by scheduling a free consultation today!